I don't know about you but some of my favorite things to color are printable coloring pages with positive quotes and affirmations.
I'm certain pages like these with uplifting messages to color can instantly raise my spirits and put me in a better mood.
Isn't it more fun to color printables with positive messages?
It's almost effortless to maintain a positive attitude and mindset when you sit down to color these pages!
Something to note about these affirmation coloring pages is that they're all laid out vertically, as you can see below.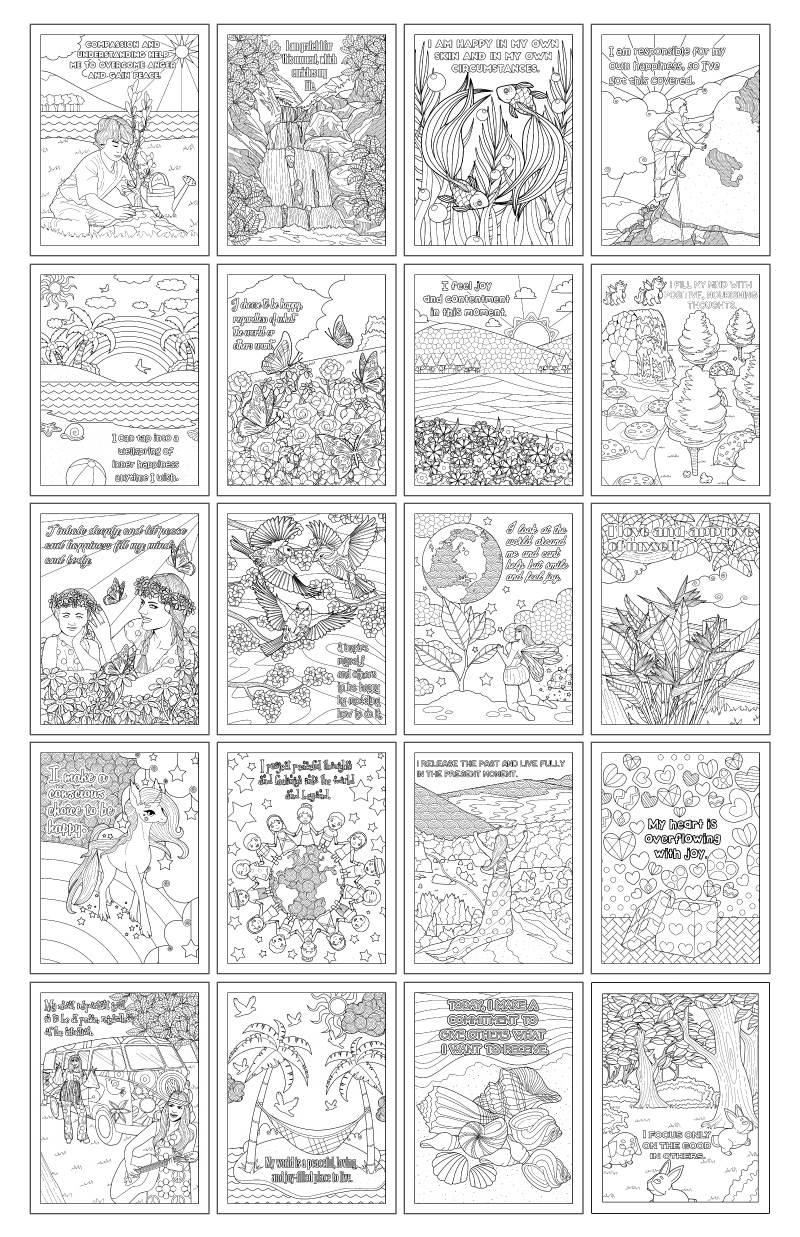 You can print these out one-at-a-time or print them all. You could also take these to a printer and have the printed and bound to create your own adult coloring book.
Combining these with out other printable coloring packs would make a really unique coloring book and a great gift!
Positive Quotes Coloring Pages
Here are the statements included in this pack of uplifting and inspiring positive quotes coloring pages:
Compassion And Understanding Help Me To Overcome Anger And Gain Peace

I Focus Only On The Good In Others

I Am Grateful For This Moment Which Enriches My Life

I Am Happy In My Own Skin And In My Own Circumstances

I Am Responsible For My Own Happiness So I've Got This Covered

I Can Tap Into A Wellspring Of Inner Happiness Anytime I Wish

I Choose To Be Happy Regardless Of What The World Or Others Want

I Feel Joy And Contentment In This Moment

I Fill My Mind With Positive Nourishing Thoughts

I Inhale Deeply And Let Peace And Happiness Fill My Mind And Body

I Inspire Myself And Others To Be Happy By Modeling How To Do It

I Look At The World Around Me And Can't Help But Smile And Feel Joy

I Love And Approve Of Myself

I Make A Conscious Choice To Be Happy

I Project Peaceful Thoughts And Feelings Into The World And Beyond

I Release The Past And Live Fully In The Present Moment

My Heart Is Overflowing With Joy

My Most Important Goal Is To Be At Peace Regardless Of The Situation

My World Is A Peaceful Loving And Joy-Filled Place To Live

Today I Make A Commitment To Give Others What I Want To Receive
Positive Coloring Pages for Adults
These printables are popular, positive coloring pages for adults but kids love to color them, too, because they're not too difficult.
They're detailed enough for adults but not so detailed that kids would have trouble coloring them in.
You Might Also Like…
Fun & Fabulous Coloring Printable Pack
Purposeful Living Coloring Printable Pack
Money Mindset Coloring Printable Pack